Item Code: HT-Q765
Name: Fritz Hansen Ro Easy Chair designed Fritz Hansen
Dimensions : H113cm x W 80cm x D97cm, Seat height: 43cm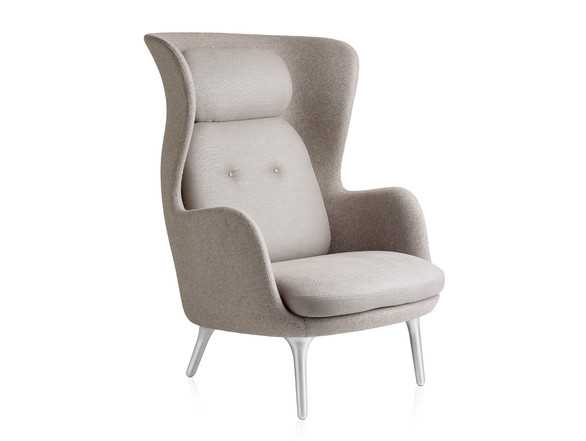 Materials & Finishes
Ro easy chair is presented in 9 unique designer colors all with a shade of grey to fit all interiors.
To make the chair vivid and more inviting, the colors are always a mix of two fabrics; one fabric
for the shell and one for the cushions. Below the seat cushion on the base there is fiberglass shell
with hand sewn on to the chair. The four legs are made in brushed cast in fiberglass. Each leg
has nylon glides suitable for a majority of floors.
Description:
The Ro easy chair is made with great craftsmanship and in the highest sustainable quality.
Combined with the sculptural and elegant design, the result is a functional and aesthetic chair
that does not compromise on either comfort or aesthetics.The design of the shell is elegant and
simple, pleasing both the eye and the body, and promises tranqulity in both visual expression and
comfortable functionality. Furthermore, the form of the shell allows you to choose between
taking part in what goes on in the room or relaxing in your own private space. Designer: Jaime Hayon
Prolific Spanish designer Jaime Hayon teamed up with Republic of Fritz Hansen to redefine the
classic easy chair. Ro is a curvy and elegant chair for reflection,
relaxing, and taking a break from the hustle and bustle of your busy day.
SAMPLE SWATCHES
If you require a fabric or leather swatch please contact with Huateng Furniture Sales department.